… can be found very close to UK shores.
Here, our family housing is about as different as possible from the wonderful housing I discovered so nearby.  In the UK, volume house-builders have been churning out the same crap for decades.  The legacy of private house building in the UK over the last 30 years is countless thousands of homogeneous, mass produced, low quality housing estates.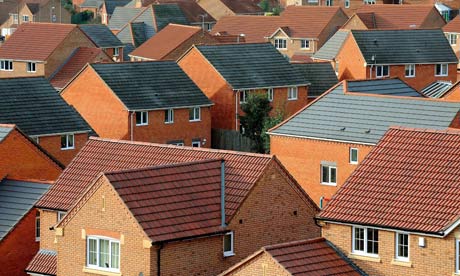 These estates are familiar to everyone: They are a common sight on the edge of every town and they all look very similar hence why they are sometimes called 'Anywhere Estates'.  They are alien impositions that land, unwelcomed on the edge of towns and villages, usually where a local council has designated a field or two as developable land.  Usually, a lucky house-builder will already have a deal with the farmer, as they will have made similar speculative deals with all the farmers and landowners nearby.  In order to recoup the costs of speculating, which itself drives up land values, new housing is cheaply built, extremely standardised and utterly boring.  Most of the 'value' of these new homes is the inflated 'value' of the land they sit on.
Homes usually resemble cheap dolls houses.  They often have a chipboard and plasterboard interior and a breeze block shell clad with a skin of cheap brick.  Small plastic windows fill in the gaps and a little pitched entrance shelter is placed above the plastic front door.  These houses are scattered, usually on patches of grass and connected by winding asphalt.  Perhaps this new estate will be given a name such as Orchard Mews, or The Oaks, after something lovely that was destroyed to make way for it.
Millions of families will pass through such estates, and millions of children will be brought up in their soulless, uninspiring environments.  Millions of families will be convinced by the house-builders' argument that these are exactly what the consumer wants.  Of course, if they never build anything different, then that is all the consumer has to choose from.  There is no choice for people who prefer to live away from the centre of towns or villages, or who can't afford to live in the truly desirable older and well built houses there. These estates are the only thing available.
If you live in a new estate on the edge of a village with an established community, you will always be 'one of the people from the new estate'.  The population will resent the imposed estate as all too often they will have had no involvement in it, and they will be similarly resentful of its occupants. While new planning regulations have the potential to involve an existing community in the design of these new estates, there is still no choice but to have a mass house-builder do the building.
So, how can it all be so different just a few miles away from the south coast?  I would never have guessed that this little country with its dull image could be so surprising.  Belgium can build houses!  Belgium can also build towns and villages.
I first noticed the variety.  On the roads leading from the busy village or town centres there is the usual lower density development.  There is no escaping this anywhere - towns get less dense away from the centre.  But in Belgium, every house is different.  Not just  you-can-choose-a-different-style-of-entrance-porch different, like in the UK, but wildly different:  Sharp modern, good quality traditional, towering modern, bungalows and houses set into slopes or amongst trees, round, square, glass, brick, concrete…  this is what real housing choice means.
Second, I noticed that in villages and towns and on their outskirts, land is divided into varied parcels and marked with a for-sale (A Vendre!) sign.  People are buying plots of land and then commissioning, designing, and building their own homes.  Really great homes!  Even the simplest house was a reflection of what its soon-to-be occupants wanted.  I don't think I saw one house that didn't have an interesting design flourish. You'd be hard pressed to find an estate house in the UK with a double height glass atrium, or even a window bigger than about 1m square.
People in Belgium are investing in villages and towns one family at a time, continuing the way that villages have grown for hundreds of years.  Families invest in a community and the community assimilates them as, say, the people who have built the beautiful modern house in amongst those old trees on the edge of the village.
The results of their 30 years of housing investment are thousands of uniquely built, good quality family homes that have been carefully designed to serve and delight their occupants.  There are so many wonderful modern homes to choose from, that a house resembling a UK estate house amongst them, would be recognised for what it is - rubbish.  Additionally, with so much variety being demanded, builders and building component manufacturers can offer so many more options than in the UK. 
I spoke to some Belgians about it.  They told me that people aspired to buy a plot of land and build their own home.  I wish I had learned how this model came to be, and what policies surround it, or about its effect on land value… but I had to leave.
What I came away thinking was that the UK has been harmed by our big, mass house-builders.  They have created terrible places and, in a way, harmed the people who have no choice but to live in their overpriced, poorly built houses.  No-one building their own house would make rooms just the right size for only 3/4 size furniture (as can be seen in estate show homes in the UK), or with windows so small that lights need to be left on inside, or chipboard floors and walls so thin you can hear people breathing on the other side.
I hope that the opportunity is taken in new Neighbourhood Plans, for communities to demand that a good percentage of new homes are designed and built by the people that will eventually live in them.  Lets have real housing choice; lets end the domination of the house-builder monopolies.